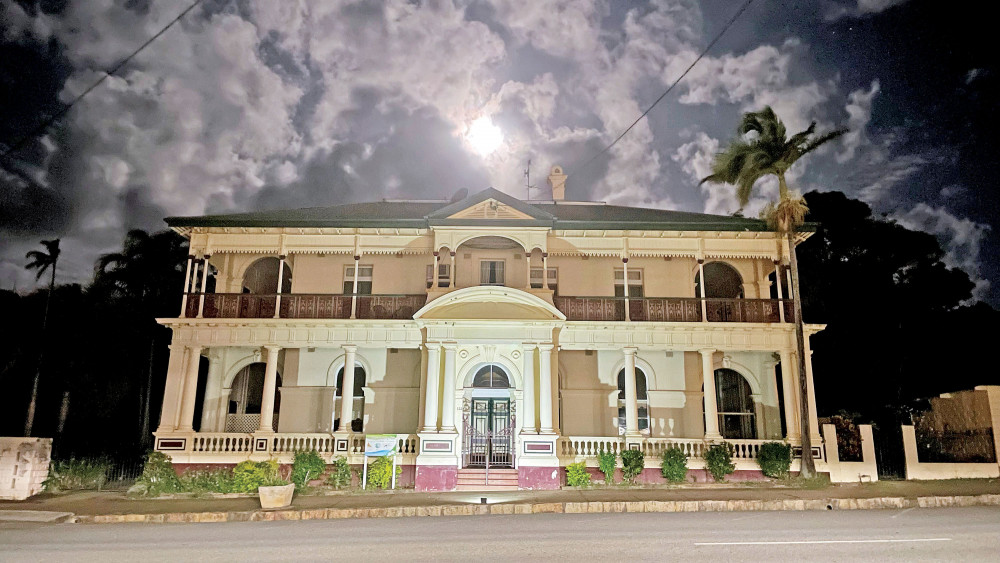 THE new owners of Cooktown's historic old bank on Charlotte Street were surprised to find a hidden message in a bottle while exploring the giant building.
Darren and Tania Taylor bought the heritage-listed tourist attraction earlier this year and have started slowly refurbishing the building and grounds.
"We found a time capsule in one of the downstairs fireplaces," Mr Taylor said.
"It was all sealed up with greaseproof paper and dipped in wax.
"It was a bit surreal finding it! They had it in a Jim Beam bottle, neat as handwriting and signed by three local girls."
Mr Taylor tracked down the three girls, now women, two of whom are still living in Cooktown.
Cherie Jerome (nee McCallum), Tess Buhmann (nee Palmer) and Suzanne Bucklar wrote the letter one lazy Saturday afternoon, Mrs Buhmann recalled.
"I used to rent one of the downstairs flats at the Old Bank when I was working there as a teller for Westpac," she remembered.
"Cherie, Suzie and I had always been curious about what was behind the boarded-up wall and that weekend our curiosity got the better of us."
The trio pulled back the boards to reveal a historical fireplace and decided it was the perfect place to leave a message for future curious visitors.
The letter read: "it would be very much appreciated if you could try to contact us as we would like to know that there are other people as inquisitive as ourselves. Sorry, no pot of gold, just this empty bottle and the memories of our doing."
The building, affectionately known by locals as The Old Bank, has been a familiar sight on Cooktown's main street since 1891, when it was built as the Queensland National Bank.
The two-storey structure features an impressive arched entrance, high ceilings, pillared verandahs and magnificent red cedar counters.
It was Cooktown's Westpac Bank until the early 2000s and has since been leased for a variety of uses, including as a community hub, residential and natural resource management office.
Mr and Mrs Taylor said they want to live in the building for now, but have also been considering other plans.
They said the rumour currently circulating around that they were about to open a boutique hotel and gin distillery was not true.
"We were thinking about a few things here but nothing is set in concrete yet and we aren't planning to do anything for 12 to 18 months at least," Mr Taylor said.
"At the moment we're happy living in it and doing up the yard."