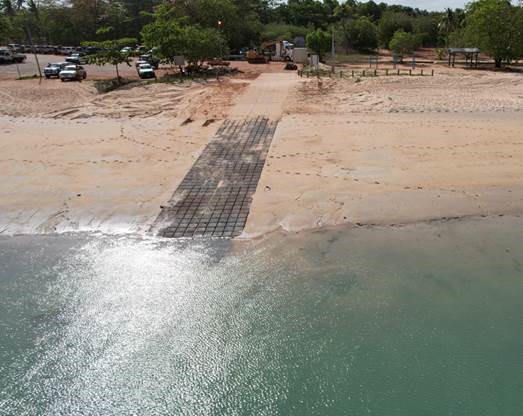 A POPULAR boat ramp near the Tip of Cape York has been given a much-needed facelift.
The damaged and worn concrete flex-mat used for Seisia's public boat ramp has been replaced with a new five metre-wide concrete modular ramp.
The $686,000 project, funded by the state government's Maritime Infrastructure Investment Program, will significantly improve safety and access for local boaties.
Works were undertaken in early September after being prioritised following concerns raised by local boaties and Northern Peninsula Area Regional Council, the facility manager.
The condition of the existing concrete flex-mat had raised safety concerns due to eroded shoulders and wear of the mattress.
The benefit of the concrete modular ramp is the hard flexible surface enables access over sand and into the water for trailer-towed vessels on the natural beach.
The new design has a crossfall towards the middle to provide better surface drainage and reduce the risk of shoulders eroding from stormwater runoff.
Two shoulder mattresses have been added alongside the ramp to assist with alleviating sand build up. The new mattresses are heavier and more stable than the previous mattresses.
"These works were carried out in early-September, and I thank local boaties for their patience during this important work," said Minister for Transport Mark Bailey.
"My department is working with Northern Peninsula Area Regional Council and the local community to determine the best long-term solutions for recreational and commercial marine facilities."
Member for Cook Cynthia Lui added: "Safe and reliable access to the Torres Strait waterways is integral to Northern Peninsula Area communities.
"This project has restored the condition of the modular boat ramp at Seisia so it can remain safe and functional, which is great news for boaties and the wider community."